The History of the Family Service of Glencoe 1914-present
The History of Family Service of Glencoe 1914 to the Present
For 100 years, through many names and iterations, the Family Service of Glencoe mission has supported the idea that a vibrant community depends on the health and well-being of its families.
1914: Establishment of Glencoe Relief and Aid Society
Family Service of Glencoe began as the Glencoe Relief and Aid Society in 1914 which formed when a group of citizens rallied to support a family whose house had burned down.
1915: Healthy Expansion
Glencoe Relief and Aid Society expanded its focus from emergency assistance to include health care, with a hired nurse making home visits, examining school children and, over time, taking on the role of community health educator.
1934: Public Involvement Grows
The Board of the Glencoe Relief and Aid Society spun off a number of its functions to other organizations and, in the process, helped to promote increased public involvement with the provision of social services. The Board voted to form Glencoe Community Chest, the forerunner of the United Way, which then took over most of the agency's financial support. However, the Relief and Aid Society still met emergency needs and financially carried the interim cases. It continued to visit not only families who had sick members or who were in trouble, but also families new to Glencoe.
1957: Shift to Fee-Based Counseling
A rise in the standard of living during the post-war boom dictated less need for material aid.  By 1957, the agency's case load more than tripled as it devoted more of its efforts to counseling services. The Glencoe Relief and Aid Society was accepted as a member of the Welfare Council of Metropolitan Chicago and, in a major policy shift, began operating on a fee for service basis with a sliding scale of charges so that families could pay according to their ability. The growing staff moved to specially designed quarters in the then-new Glencoe Village Hall, which remains Family Service of Glencoe's present location.
1963: New Name, Consistent Focus
With the vast majority of cases involving personal adjustment and inter-personal relationships, the agency changed its name to Family Counseling Service of Glencoe to more accurately reflect the services it provided.
1969: Increased Demand for Counseling
More part-time professional staff members were hired to keep up with the increasing demand for individual, marital, group and family counseling.
1970: Innovative Programs and Stronger Public Safety Relationship
Family Counseling Service of Glencoe was instrumental in creating the Glencoe Youth Services and junior high programs as well as a youth-at-risk program and a senior housing assistance program. The existing relationship with Glencoe Public Safety is formalized so that agency staff regularly offer consultation and education services to help Public Safety manage domestic and mental health emergencies.
1990: Family Drop-In
The North Shore Family Drop-In Program was created for parents and caregivers and their children between birth and age five. The program was facilitated by an early childhood specialist to discuss parenting and child development issues.
1994: Around-the-Clock Intervention Services
Family Counseling Service of Glencoe further solidified its relationship with the Glencoe Public Safety Department, providing crisis intervention services 24 hours a day, 7 days a week. Public Safety started referring families and individuals to FCSG who would benefit from therapy, counseling or other community resources.
1997: Family Counseling Service of Glencoe Becomes Family Service of Glencoe
With individual, couples and family therapy being the core, the agency changed its name to Family Service of Glencoe. Funded by the Village, New Trier Township and Glencoe United Way, along with community groups such as Glencoe Union Church, St. Elisabeth Episcopal Church, the PTO and Women's Library club, FSG also derived its support from client fees and fundraising.
2006: Responding to Teens' Needs
In response to an upswing in Public Safety crisis cases involving teens, Family Service of Glencoe convened the Glencoe Youth Council.
2009: Glencoe Parent Connection Launches
To connect parents with other parents, schools and resources to help us raise emotionally healthy kids within a supportive community, FSG established this parent-powered group.
2013: Parent Consultations begin
Family Service of Glencoe's Parent Consultations provide parents with a one-time consultation or a brief series of consults that are solution-focused and address specific issues. Consultations are tailored for each parent with the goal of maximum results in minimum time.
2013: Assessing Community Needs
The organization initiated a multi-phase, community-wide needs assessment project to better understand the needs of the community, and in turn, how to provide the best possible services and programs to emotionally support the Glencoe community.
2013: Positive New Partnership
In conjunction with the Women's Library Club of Glencoe, FSG begins a partnership supporting the North Shore Exchange, an upscale, nonprofit consignment store whose proceeds are directed to organizations serving families in need.
2014: Second Location Added
FSG kicks off the celebration of its centennial year with the grand opening of its new, additional location at 361 Park Avenue. FSG also maintains its office in Glencoe Village Hall, home of the organization since 1957.
After 100 years
Throughout the 100 year history of Family Service of Glencoe, its talented and dedicated staff members have helped strengthen the Glencoe community in many ways.  With programs and services that identify, prevent, treat and intervene in the area of social and emotional issues, FSG continually strives to evolve with the ever-changing needs of the community it serves.
Photographs are the property of the Glencoe Historical Society.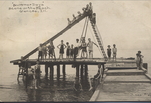 In the 1920's, the Glencoe Beach featured a water slide.

Children traveled the sidewalks of Glencoe by bike.

The original Glencoe firetruck.