Benefit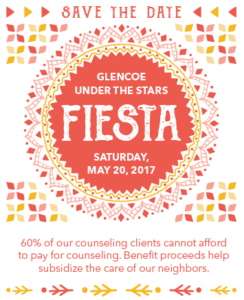 Family Service of Glencoe (FSG) serves as a lifeline to individuals and families in crisis. We are committed to strengthening our community by providing confidential and high-quality therapy to all who live or work in Glencoe regardless of ability to pay. Currently 60% of our clients qualify, based on income, to receive counseling services at a reduced rate.
With counseling demand and client financial needs in mind, FSG hosts an annual benefit, Glencoe Under the Stars, to raise funds to help subsidize their care. Many thanks to our 2017 benefit sponsors who choose to stand with those facing mental health challenges.
This year's fiesta-themed celebration will be held on Saturday, May 20, 2017 at Skokie Country Club. This year's benefit is co-chaired by FSG Board Members Nicole Hayek and Amy Maher.
There are many ways to be involved–sponsor a table, donate an auction item, purchase an ad in our program book, or invite friends to join you for an evening of inspiration and awareness. For more information, please email sarah@familyserviceofglencoe.org.