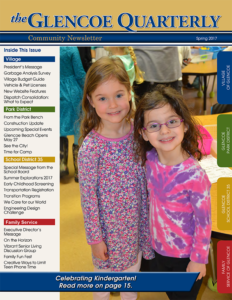 The Glencoe Quarterly is a combined newsletter published jointly by the Village, the Park District, School District 35 and Family Service of Glencoe. This publication is mailed four times each year to all Glencoe residents and includes current topics of interest and general information about services and programs.
Read the current issue online here: Spring 2017 Glencoe Quarterly
We are here to help. If you or your family need support, please contact us at 847-835-5111 or info@familyserviceofglencoe.org.