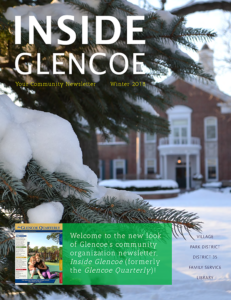 Inside Glencoe (formerly the Glencoe Quarterly) is a combined newsletter published jointly by Family Service of Glencoe, the Village, Park District, School District 35 and Library that is mailed to all Glencoe households.
We're excited about our community newsletter's new look, new partner, and new name! We hope you will learn something new about our village and attend an upcoming event or two.
Read the Winter 2018 Inside Glencoe here. Keep an eye out in the mail for your print copy as we welcome in the New Year!