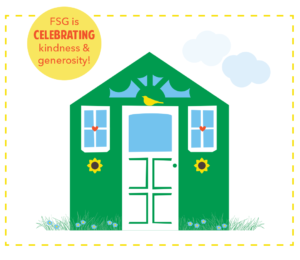 Family Service of Glencoe (FSG) is pleased to announce a special playhouse will be coming to Glencoe to celebrate our major donors. The playhouse, a small wooden structure complete with play sink and stove, invites our town's youngsters to engage in imaginary and collaborative play. It will first be located at Wyman Green in front of Glencoe's Village Hall and then rotate throughout the community during the summer and fall months. Families are encouraged to stop by for a visit on a walk or a bike ride.
"We are so grateful for the generosity of local families, businesses, and foundations and wanted to acknowledge their kindness in a meaningful way," noted Bill Hansen, FSG Executive Director. "This playhouse represents the homes that are cared for by FSG because of their strong support."
Glencoe community members are invited to join us for a family-friendly ceremony to unveil our new playhouse on Saturday, June 24 at 10:30am at Wyman Green in front of Village Hall.
View playhouse ceremony pics on Facebook.
Donors being recognized include The Healthcare Foundation of Highland Park, New Trier Township, North Shore Community Bank & Trust, North Shore Exchange, The Perlman Family Foundation, The REAM Foundation, The Roger & Susan Stone Family Foundation, and the Village of Glencoe, as well as several local families, The Hayek Family, The Karnes Family, The Olshansky Family, and The Willian Family.
ABOUT FAMILY SERVICE OF GLENCOE: Rooted in Glencoe for more than 100 years, Family Service of Glencoe strengthens our community through highly confidential services that prevent and treat emotional and psychological problems. Services include counseling to individuals and families; community education; crisis intervention; senior housing assistance and more. To receive help or become a supporter of this non-profit organization, visit www.familyserviceofglencoe.org.