Upcoming Events
Senior Discussion Group Series: Vibrant Living
Hammond Room, Glencoe Public Library (unless noted)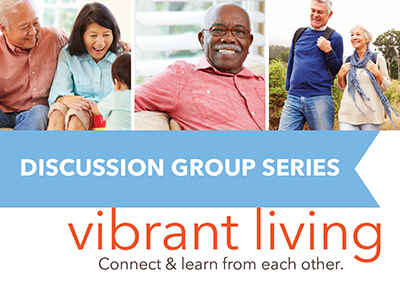 Glencoe senior men and women, please join us for a lively conversation and study on relevant topics in this important season of life. Topics are chosen by participants and may include: finding balance in caring for your emotional and physical health, maintaining nourishing relationships, sharing life lessons, addressing fears and hopes, and more.
Discussion Dates & Times
July 27, 1-2:30pm
No August meeting
September 21, 1-2:30pm
October 19, 1-2:30pm
November 16, 1-2:30pm
Facilitated by staff counselor Joan Merlo, LCSW.  Specific topics chosen by you. New attendees are welcome. Connect and learn from each other. Please rsvp to joan@familyserviceofglencoe.org or call 847-835-5111.
---
Meditation Drop-in Series
FSG's drop-in meditation series is pausing for the summer months. For more information, please email Chuck Hutchcraft, LCSW, at chuck@familyserviceofglencoe.org