Upcoming Events
Sex Ed Parent Meetings
Central School Young Auditorium
FSG is partnering with District 35 on two sex ed parent meetings to keep Central School parents informed about grade-level sex education curriculum. Sessions are presented by Alec Ross, FSG Social Worker and Gerri Tyre, Retired Health/Science Teacher.
RSVP online today for one or both sessions.
5th/6th Grade Parent Meeting
Thursday, April 20 / 9:30-11am
7th/8th Grade Parent Meeting
Thursday, April 27 / 9:30-11am
---
Senior Discussion Group Series: Vibrant Living
Hammond Room, Glencoe Public Library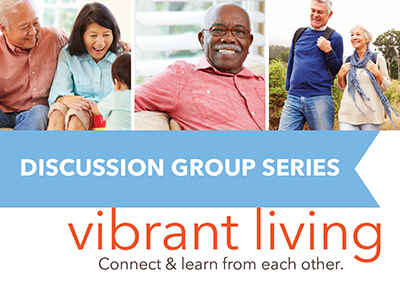 Glencoe senior men and women, please join us for a lively conversation and study on relevant topics in this important season of life. Topics are chosen by participants and may include: finding balance in caring for your emotional and physical health, maintaining nourishing relationships, sharing life lessons, addressing fears and hopes, and more.
Discussion Dates & Times
April 20, 1-2:30pm
May 18, 1-2:30pm
June TBD
Facilitated by staff counselor Joan Merlo, LCSW.  Specific topics chosen by you. New attendees are welcome. Connect and learn from each other. Please rsvp to joan@familyserviceofglencoe.org or call 847-835-5111.
---
The Legacy Project: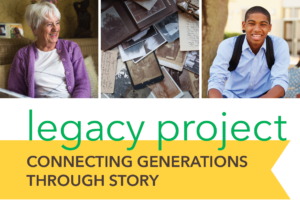 Connecting Generations through Story
Central School Oasis
Thursdays, February 16 through April 20
We all have stories. Stories accumulate through experience and shape the sense of who we are. As we approach and through our later years, telling our stories, the sharing of who we are, becomes ever more important. It provides the opportunity to look back over our lives and see that they mattered and still matter.
The Legacy Project, a collaboration between Family Service of Glencoe and Glencoe Junior High Project, echoes the oral traditions of the past with a little help from modern technology. We need you! We are looking for older adults willing to be interviewed by middle school students. Contact chuck@familyserviceofglencoe.org or call 847-835-5111 to get involved.
The project presentation is scheduled for Friday, April 21 at 4pm at Central School. Please join us!
---
Wednesday, April 26, 7pm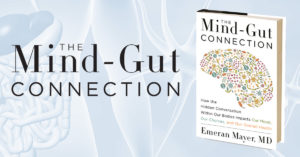 Emeran Mayer, MD, PhD
New Trier High School, Northfield Campus, Cornog Auditorium, 7 Happ Road, Northfield, IL 60093
FSG is sponsoring an upcoming Family Action Network (FAN) event featuring Emeran Mayer, MD, PhD as he presents "The Mind-Gut Connection: How the Hidden Conversation with Our Bodies Impacts Our Mood, Our Choices, and Our Overall Health." Dr. Mayer's scientific contributions as one of the pioneers and leading researchers in the role of mind-brain-body interactions in health and chronic disease is unparalleled.
Free and open to the public. PDs available for educators. Suitable for ages 10+.
---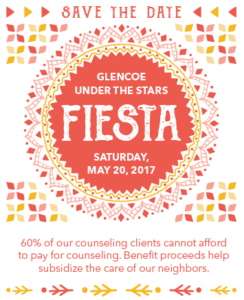 Saturday, May 20, 6pm
Glencoe Under the Stars: Fiesta!
Skokie Country Club, 500 Washington Avenue, Glencoe

Each spring, FSG hosts a benefit to to celebrate the power of community and raise funds for the always-evolving work FSG does in supporting the emotional well-being of all who live and work in Glencoe. With 60% of our clients receiving counseling services at a reduced rate, benefit proceeds help us bridge this financial gap. Many thanks to our 2017 benefit sponsors.
This year's benefit is co-chaired by FSG Board Members Nicole Hayek and Amy Maher. We hope you will join us as we stand with those facing mental health challenges.
Learn more at www.glencoeunderthestars.org
---
Ongoing / Fridays 9:30-10:30am
Meditation Drop-in Series
Takiff Center, 999 Green Bay Road, Glencoe

Discover the true expression of self through meditation and group discussion. Led by FSG's Chuck Hutchcraft, LCSW, ordained Zen Buddhist priest and mindfulness teacher, these drop-in sessions will help individuals learn inner balance and realize natural self-assurance. Self exploration helps you to be more effective in your personal life, your relationships and in the world at large. We hope you will join us. For more information, email chuck@familyserviceofglencoe.org
Beginning Friday, February 3, drop-in sessions will meet at the Glencoe Park District Takiff Center located at 999 Green Bay Road, Glencoe.