Upcoming Events
Senior Discussion Group Series: Vibrant Living
Hammond Room, Glencoe Public Library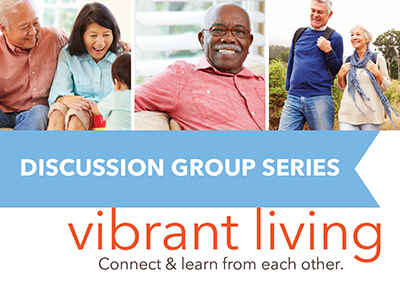 Glencoe senior men and women, please join us for a lively conversation and study on relevant topics in this important season of life. Topics are chosen by participants and may include: finding balance in caring for your emotional and physical health, maintaining nourishing relationships, sharing life lessons, addressing fears and hopes, and more.
Discussion Dates & Times
December 14, 1-2:30pm
January 18, 1-2:30pm
February 15, 1-2:30pm
Facilitated by staff counselor Joan Merlo, LCSW.  Specific topics chosen by you. New attendees are welcome. Connect and learn from each other. Please rsvp to joan@familyserviceofglencoe.org or call 847-835-5111.
---
Reach Yoga Class to Benefit FSG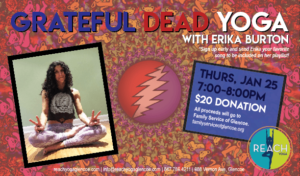 Thursday, January 25, 2018 / 7-8pm
688 Vernon Avenue, Glencoe
Erika Burton is hosting a special yoga class to benefit Family Service. Inspired by the Grateful Dead and appropriate for all levels, this class promises to keep you moving and grooving to your favorite songs. Once registered send her your favorite Grateful Dead song to include in her playlist! Cost is a $20 donation.
---
The Legacy Project Returns in 2018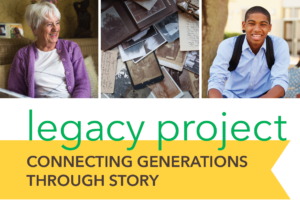 The Legacy Project, a collaborative exchange between Family Service of Glencoe and Glencoe Junior High Project, returns in 2018. The project aims to help students and seniors see each other's lives through different lenses while acquiring a new sense of curiosity
about the world and each other.
We are currently recruiting local seniors to engage with students through interviews and other social interactions. If you are interested, please contact chuck@familyserviceofglencoe.org or (847) 835-5111.
---
Meditation Drop-in Series
Fridays, 9:30-10:30am
Takiff Center, 999 Green Bay Road, Glencoe
Led by FSG's Chuck Hutchcraft, LCSW, ordained Zen Buddhist priest and mindfulness teacher, these drop-in sessions will help individuals learn inner balance and realize natural self-assurance.For more information, please email chuck@familyserviceofglencoe.org