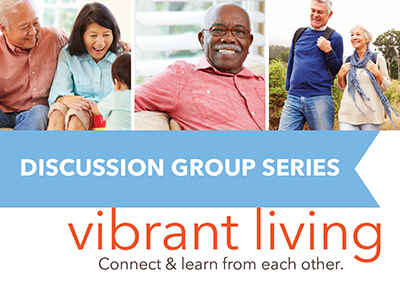 Family Service of Glencoe's Vibrant Living Senior Discussion Group is on the go this month to the Chicago Botanic Garden. Facilitated by FSG staff counselor Joan Merlo, LCSW, participants will experience the benefits of "Mindfulness in Nature" on the Thursday, June 22 outing. The group will depart from the Takiff Center at 12:30pm and leave the garden at 3pm. Guests are asked to make a reservation with Joan by Thursday, June 15 in order to coordinate transportation even if they choose to drive separately.
This discussion group series for senior men and women has been meeting since December 2016 to share ideas and gain new perspectives on a variety of topics related to this season of life. Discussions are lively and authentic—filled with both humor and inspiration.
The monthly discussion group is part of FSG's expanded services for seniors. "We are pleased to create meaningful opportunities for seniors to grow and connect here in Glencoe," says Merlo. "I hope many residents will join us for this special outing in nature."
Additional discussion group dates include July 27 and September 21. The group will not meet in August. Open to the public, meetings take place from 1-2:30pm at the Glencoe Public Library, a partner in FSG's expanded services to seniors. For more information, or to rsvp, please email joan@familyserviceofglencoe.org or call 847-835-5111.
ABOUT FAMILY SERVICE OF GLENCOE: Rooted in Glencoe for more than 100 years, Family Service of Glencoe strengthens our community through highly confidential services that prevent and treat emotional and psychological problems. Services include counseling to individuals and families; community education; crisis intervention; senior housing assistance and more. To receive help or become a supporter of this non-profit organization, visit www.familyserviceofglencoe.org.