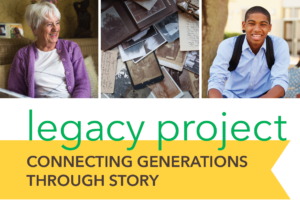 Family Service of Glencoe (FSG) is pleased to partner with Glencoe Junior High Project (GJHP) on a new program, The Legacy Project: Connecting Generations through Story, designed to connect middle school students with community elders through the sharing of stories via interviews. This collaborative project echoes the oral traditions of the past with a little help from modern technology.
Facilitated by FSG Staff Therapist, Chuck Hutchcraft, LCSW, and GJHP Executive Director Audra Donnelly, The Legacy Project will provide enriching experiences for all participants. Both students and seniors will gain different perspectives on life and acquire a sense of curiosity by looking through the lenses of a generation other than their own.
Students will learn, and develop through hands-on experience, the art of interviewing. They will also review social and political history encompassing a senior's life span as well as issues related to aging.
Seniors will have the opportunity to look back, see value in their lives, and share wisdom and knowledge. "As we approach and through our later years, telling our stories, the sharing of who we are, becomes ever more important," notes Hutchcraft. "It provides the opportunity to look back over our lives and see that they mattered and still matter."
The inter-generational project takes place over eight sessions February 16 through April 13 on consecutive Thursdays, 3-5pm, at the Central School Oasis. Stories and the experience of telling and hearing those stories will be shared on April 20. FSG is looking for older Glencoe residents willing to be interviewed by a Central School student. Seniors will meet with students for five sessions. Please confirm your interest by Tuesday, January 31. For more information, or to sign up to participate, please email chuck@familyserviceofglencoe.org or call 847-835-5111.